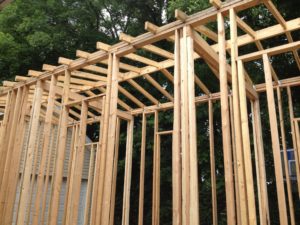 As of the beginning of June, very little progress has been made.  As you can see, the windows have been framed and the roof rafters completed.
Who knew that Murfreesboro would skyrocket into the 6th fastest growing city IN THE NATION!  The man who said he would do this project for us over-committed himself and hasn't been able to get over to our job.  Unless you are building a shopping complex or subdivision, you are low on the totem pole here.  In fact, one contractor friend said he's never seen anything like it.  People are stealing subcontractors off of job sites with promises of higher pay.
My husband and I are pretty handy, but I want to make sure the bones of this home are done exactly right, so here it sits taking up a large part of my driveway.  Can you feel my frustration?!